Video Player KMP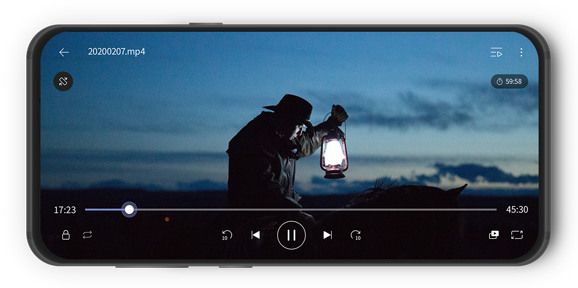 Perfect video player, KMP.
KMP is video player which is the light and easy one that can be played in anytime.
It can be the best partner on your trip/commute/relax.
Android
Universal application

It can be played in tablet or smartphone everywhere you wanted. Watch the video whenever, wherever.

Screen Setting

Zoom in/out, reversal(mirror mode & upside down)-you can setup your screen with dynamic performance. Master your favorite dance with these features.

Section Repeat

Can play A-B section repeatly. Bring more fun with your study for language with this features.

Speed control

From 0.25x slower to 4x faster, you can adjust the playback speed
Experience various speeds with the same play quality.

Subtitle

Enjoy the freedom of subtitle-color, location and size.
Play video with your own choice.

Equalizer

Provide equalizer for more realistic play.
Feel the heat of concert, orchestra like where you are in there.

Background Play

Can played the video in background.
Enjoy your video in background like audio play.

URL(streaming) Play

You can play the video from website by enter the video's URL.
Play the video on the web with diversiform of KMP's excellent features.

External storage

KMP automatically scan all video file in your device and SD card.
You can easily manage your video file in KMP.